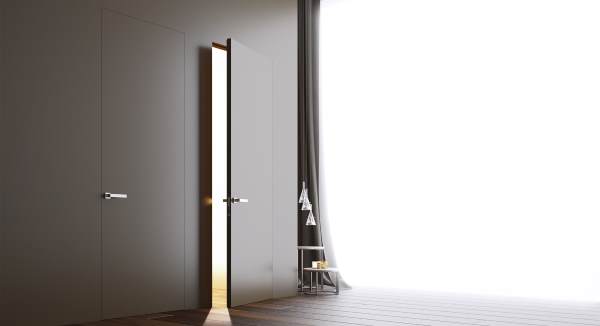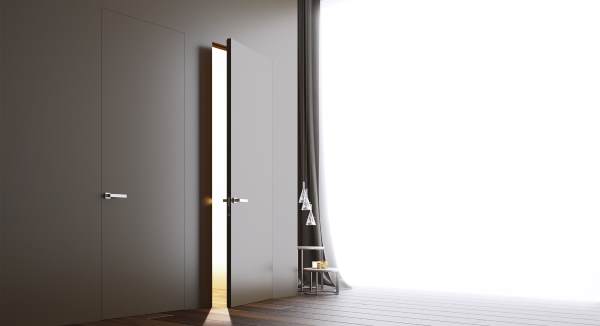 Choosing flush-fitting doors is a common trend in interior design, and it's easy to understand why. Essential and free from the constraints of doorjambs and staff beads, flush-fitting doors stand out for their elegance and simplicity.
Compared to classic doors, this solution perfectly integrates in the wall, creating a valued effect of balance and homogeneity. Flush-fitting doors are linear and minimal, adding an effect of simple and delicate class to the wall and a sense of lightness to the rooms.
These are not the only benefits of flush-fitting systems. First of all, despite appearances, flush-fitting doors are very strong and robust if they are produced with high-quality materials. Secondly, flush-fitting doors, cabinets and shutters can be great design pieces. Being invisible, the flush-fitting system offers an endless number of creative options to plan the layout of every room.
Those who want to take advantage of the features of flush-fitting systems can use paints, wallpapers and lacquering to create concealed and almost invisible compartments or passages.
Those who prefer more original solutions can use flush-fitting doors and shutters to create chromatic contrasts and embellish the walls with refined decorative effects. This way, the door stops being a simple functional instrument to become a design element that can add value to the whole environment.
Invisible-door.com creates customised flush-filling doors, cabinets and shutters, with sliding or swinging doors. We can deliver the doors ready to be painted or already lacquered, based on the request, and customised handles or coatings can be added. Do not hesitate to get in touch with our customer support to ask for information or receive a quote.