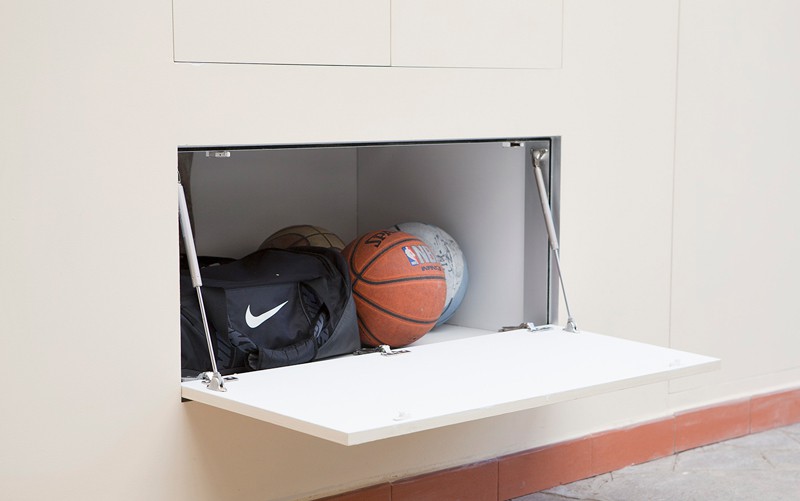 Invisible recesses and hidden compartments: the secret world behind flush-to-the-wall panels.
Discrete, roomy, conveniently invisible. Flush-to-the-wall access panels are a particularly useful and esthetically impeccable solution for home or office. The peculiarity of these fixtures is given by the panel and its closure. Without visible frame or trim, flush-to-the-wall panels are perfectly aligned with the wall once they are closed. This is why they are vastly appreciated when it is necessary to create invisible recesses or compartments. Or when you prefer not to break the uniformity of the wall with superfluous or ungainly elements. Here are some of the most common uses of flush-to-the-wall panels and the best options for structure and design.
Flush-to-the-wall recesses, hatches, and compartments: invisible nooks and space-saving design.
The typical invisibility of flush-to-the-wall panels is perfect for creating hidden compartments. For example to conceal safes and valuable objects. But also to cover meters, electrical panels, or protect cupboards and bookshelves. In these cases the flush-to-the-wall closure is providential. If the door is painted the same color as the wall, the concealment is nearly perfect. More so if, instead of fitting it with a handle, we resort to a push to open system. If instead you want to play with contrast and decoration, the clean, uniform surface is versatile and undemanding. Color oppositions, particular textures, and wallpaper offer ideas for unique combinations. An element that combines design and convenience for modern and functional furnishing.
Invisible-door Panels: measures and versions for plasterboard or brickwork.
Invisible-door produces flush-to-the-wall panels for brickwork or plasterboard walls. Available in several standard measures, they can also be custom made to each client's needs. The doors have a pressure opening and closing system to ensure the utmost practicality. Furthermore, the panels are delivered either varnished or unpainted, according to the client's request. Contact us, no obligations, for details or information, at +39 0574 630094 or via fax at +39 0574 635480 or email us at info@invisible-door.com