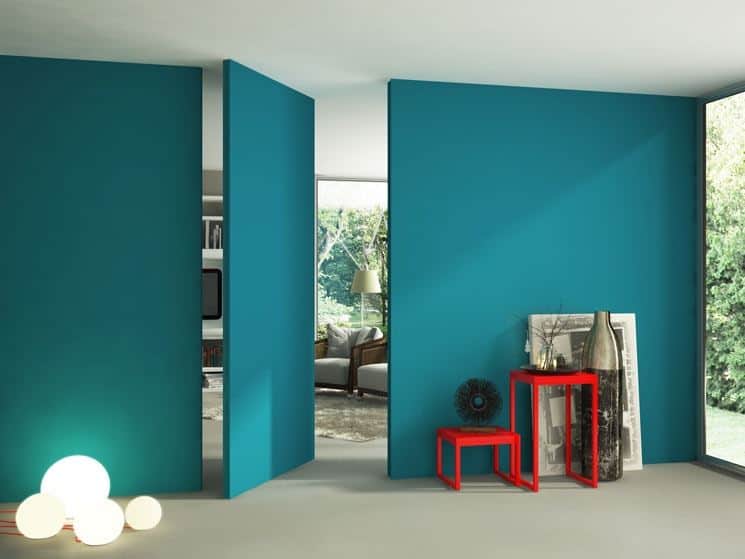 Practical and spectacular, the flush-to-the-wall pivot door is the veritable queen of contemporary design.
Imagine a wall pivoting to reveal a hidden world, just like in the best adventure movies. You can achieve a similar effect by choosing a flush-to-the-wall pivot door to install in your home. At a first glance, the closed door is identical to the housing wall, which makes for a homogeneous, smooth surface. A light pressure in the right place, and the door pivots, gradually opening onto a new, previously unsuspected space. The spectacular effect is thus ensured. What are the other advantages of a flush-to-the-wall pivot door?
Small spaces, monumental effect.
Who said that small rooms can't have a great esthetic impact? The flush-to-the-wall pivot door is a perfect example to the contrary. The pivot door can be installed in any kind of structure, as it has no jamb or frame, thus making for an impression of grandeur. Furthermore, the space taken up by the opening is much more reduced compared to an ordinary swinging door. This is because the vertical pivot door rotates on its axis thanks to special pivoting hinges. Thus the swing of the door is equal to a portion of the panel for each of the two rooms onto which it opens. This is why this model is the ideal solution, regardless of the amount of space available.
Airiness and versatility.
If it is true that the pivot door represents a unique decorative element in itself, the fact that it can be adapted to suit all kinds of needs makes it all the more valuable to interior designers. Aside from the size, which of course influences the appearance of the door and the amount of light let in, its trim also plays a fundamental role. Devised to disappear into the wall, it can also be decorated or be used as an element of contrast, for an even more spectacular effect. Furthermore, the pivot opening gives an impression of airiness and levity, despite the essential sturdiness of the structure.